By Golok Nanmwa
Plateau State House of Assembly Member representing Langtang North / North Constituency, Hon Pirfa Jinfa Tyem on Thursday empowered over 1,000 of members his constituents .
Our correspondent reports that Hon Tyem had recently dug 21 boreholes across 9 wards of his consistency in order to tackle the challenges of water scarcity in the council .
Speaking while unveiling his empowerment projects in Langtang ,the lawmaker said the empowerment programme was his contribution to the development of his constituency and to alleviate the suffering of his people.
"My empowerment programme is a sure way of remembering my people and to say thank you for the mandate given to me to represent them.
The lawmaker said that the empowerment was also part of a larger project of his constituency designed to promote entrepreneurship development, skills and vocations as a tool for diversification from preference for white collar jobs, toward achieving self sufficiency and reliance.
"This is in fulfillment of the promises to our people during the electioneering to always interact with them, share in their difficulties and challenges and above all to be alive to their yearnings and aspirations at all times.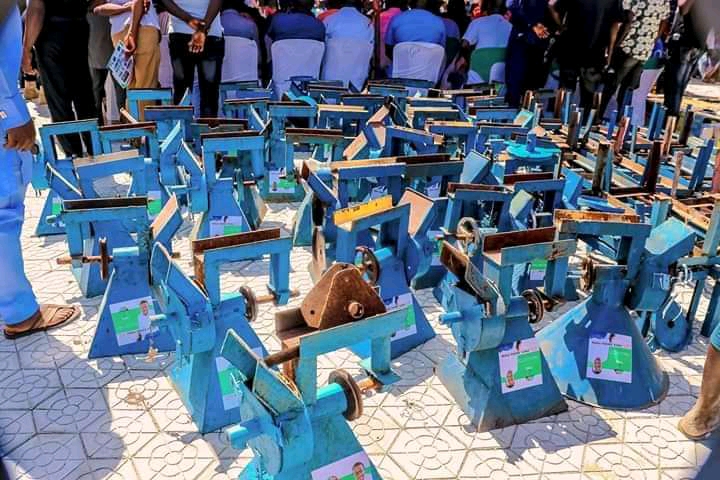 These are just a tip of the iceberg, because our people needed to be empower, they needed to be encouraged.
"That is exactly what we are trying to achieve and our main focus towards improving the capacities of the people of the constituency," he said.
Hon Tyem urged the beneficiaries to make good use of the items given to them.
He appealed to those who have not benefited to exercise some patience, adding that the next phase would accommodate them.
One of the beneficiaries Timbyen Bulus a physically challenged who was empowered commended Hon Tyem for his excellent representation in the Assembly.
Timbyen , who thanked the lawmaker for his kind gesture, described him "as a man of the people" who uplift the lives of his constituents.
She said that the lawmaker has mastered the keys of building others up.
She called on the people of the council to continue to support the People's Democratic Party (PDP) at all times .
The Chairman of Langtang North Local Government council Hon Laven Ubandoma commended the lawmaker for his efforts at tackling poverty in the council .
He said that his adminstration is working around the clock to ensure peace in the council .
Laven advised to people of the council to continue to be their brother's keeper at all times .
count | 71