Pam Moses
A medical practitioner in Jos, Dr Nyam Azi, has organised a free medical outreach in Farin Gada community in Jos North Local Government Area (LGA) to improve healthcare in the state.
Dr Azi, of the Jos University Teaching Hospital (JUTH), said on Tuesday at the event that the initiative was part of efforts to cushion the effect of the harsh economic realities for residents.
He said it was also to complement government's initiatives in delivering quality healthcare to the people.
" This gesture is to ensure that residents who could not afford healthcare can get a chance of receiving medical aid.
" This free medical outreach was borne out of the desire to ensure that the poor in our communities get a chance at getting medical care, as health is very important.
" We have so far seen and treated over 300 persons today, there are lots of people who are still queuing up to get tested and treated, it is our desire to do more.
" Because of the hardship being faced, people rather suppress their health challenges, than visit a hospital, that is why we are having this large number here today.
" We carried out tests on Malaria, Blood Sugar levels, typhoid, HIV, Hepatitis and others, those who were found with problems were counseled and treated.
" We started with the Farin Gada Community because it is where we just opened a mini Clinic, where residents around here can access quick and very affordable healthcare. We will continue to move round to offer this service, everyone deserves to live long and healthy life," he said.
He, however, regretted that Nigeria had a huge deficit in terms of health personnel and health service, stating that the number of doctors in the country is grossly inadequate.
" The World Health Organisation (WHO) recommends a doctor to 200 patients, but in Nigeria, it is one doctor to about 2,000 patients.
" That is grossly inadequate and that represents a 1o fold deficit in the health sector," he stated.
According to him, the country is experiencing brain drain, as doctors continue to leave for foreign countries to practice.
Dr. Azi said there was the need for encouragement from government to keep doctors at home by increasing their salaries, despite being faced with hazards and being over worked.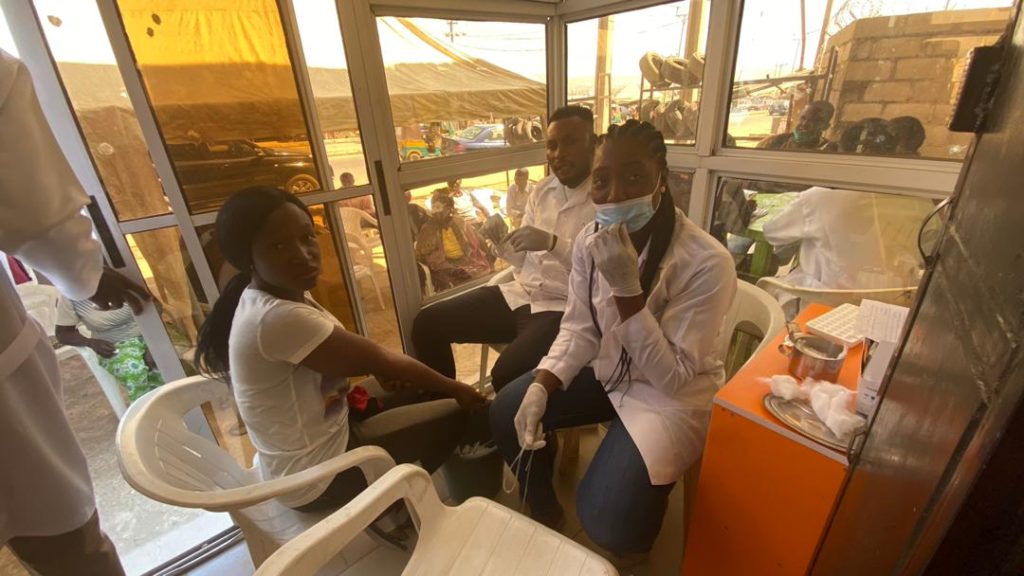 The medical expert recommended that one of the ways to close such deficit was through private-sector involvement, that would bring healthcare to the doorsteps of their communities, for easy, affordable and timely access.
A beneficiary of the outreach, Mrs. Celina Dung, commended Dr Azi and his team for the kind gesture, stating that she was relieved to have her diabetic drugs again, as she could not afford it for a period of time.
Dung appealed to other doctors and individuals to emulate the kind gesture by doing better things for their communities, as well as move the nation forward.
count | 89