Ward Executives of the All Progressive Congress( APC )of Turaki Ward of Langtang South Local government council of Plateau state on Friday denied the suspension of Prince Vincent Venman Bulus from the party .
This was contained in a press statement jointly signed by Wapji Garba, the Ward Chairman) , Nandul Nimnka (Ward Deputy Chairman) and Emmanuel Jangnap (Ward Secretary) and made available to newsmen in Jos .
The statement reads that " We as the Executive of APC Turaki ward of Langtang south write in regards to the suspension of Hon.Prince Vincent Venman Bulus as contained in a press statement dated 2nd July, 2020 and signed by Hon. Friday Binbong on behalf of the LGA Executive Committee.
"We wish to state categorically that the Turaki Ward Exco of APC has never conceived a plan nor had in any meeting held called for, or signed any document as a resolution suspending or calling for the suspension of its most vibrant and active member in the ward in
person of Hon.Prince Vincent Venman Bulus."
"We wish to call on the attention of the Local Government Area EXCO to disregard any document that the Turaki Ward EXCO has suspended Hon Vincent "
The statement further said that Hon.Prince Vincent Venman Bulus has been a pillar of the party and through his relentless efforts, the membership of the party in the Ward and Langtang South LGA has increased greatly.
The group challenged anybody who is parading any fraudulent document purported to be the decision of the Turaki Ward EXCO suspending Hon.Prince Vincent Venman Bulus to
produce the minutes of the EXCO meeting where allegations of any sort of misconduct against the party was raise against him and the resolution of the EXCO to suspend him.
The Group called on the people of the state and LGA to continue to support the APC at all times .
APC in Langtang South is growing from strength to strength the statement further added .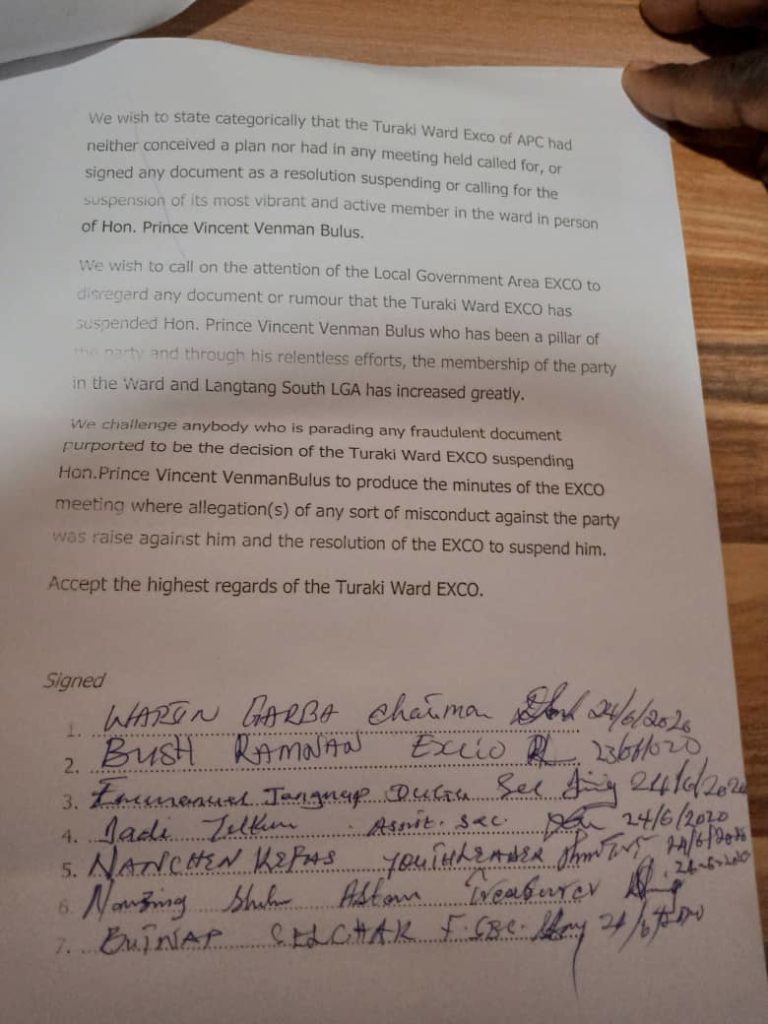 count | 50