The Youths in Riyom Local Government Area have raised their voices in total condemnation of the invasion, vandalization and looting of property of the Local Government Council by people they described as "ill-informed hoodlums"
The Youths under the Plateau Youth Council Riyom Council while speaking through their Leader, Cmr. Solomon Dachung described the heinous acts as condemnable and the peak of insensitivity displayed by unscrupulous element which has retrogress the Local Government Area in terms of infrastructural development.
Cmr. Solomon Dachung said the Youths in Riyom LGA will henceforth vehemently reject and resist any attempt to vandalize any public property again.
"We again state categorically and abundantly clear that as responsible youths, we will protect our heritage and assets against merchants of violence and culprits alike" he stated.
He urged the youths to resist and stop acts such as drug abuse, vandalism, hooliganism, gangsterism, bullying, thuggery and other retrogressive tendencies.
While sympathizing with the Council Chairman, Stakeholders and people of the Area, he appreciated the Management Committee Chairman for the youth inclusive leadership he is providing. He said the youths will continue to accord the Chairman the needed supports to succeed.
The Outgoing Plateau Northern Zone Coordinator of PYC, Cmr. Gyang Mwadkwon lauded the youths for speaking against the criminal acts, urging them to develop themselves discard indolence and be productive.
The Management Committee Chairman in his remark commended the youths for lending their voices in condemning the dastardly act.
He described the actions of the hoodlums as despicable and called on the youths to united and always ensure they collectively protect and safeguard public property in their domain. He told the Youths that they will be Leaders in the Council in the future and will be struggling to replenish items looted instead of concentrating to provide other basic amenities to the people.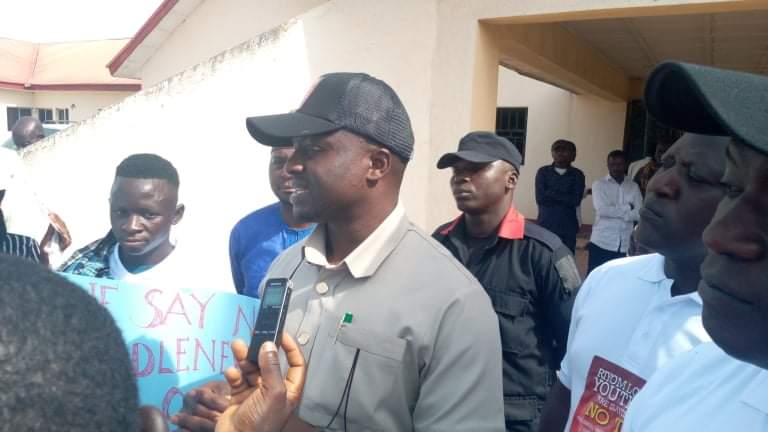 Hon. Gwallson said he is committed to programmes and activities that will impact the youths and people of the area greatly. He also hinted that plans are underway to organizing Youth Summit that will bring together all youths irrespective of tribal, religious and religious inclinations to chart a new course that will lead to the unity, peace and prosperity of the Area.
He appreciated the security agencies for the arrest and recoveries made so far from the vandals as well as investigating to know the remote cause of the criminal act. He said cars and motorcycles belonging to some looters were also impounded.
count | 220