By Golok Nanmwa ,Jos
Hon. Tamwakat Weli, Commissioner for Tourism, Culture and Hospitality, Plateau State, was presented with a prestigious portrait painting and an (AWARD OF EXCELLENCE) by the Rescue Team Women Support group of the LGA.
At a brief event in her office in Jos 18th September 2020, the head of the women Organization, Mrs. Cecilia Dewan said, the award is in recognition of the Commissioner's tremendous and notable achievements both in her official duties and to her Constituency. She noted specifically on her Community Service, her zeal and passion towards a United Ngas Nation, her continous outreach Initiative Programs for the Widows, Motherless, Children /Youths and the Physically challenged, her commitment and support to community projects, too numerous to mention.
She commended her as one of the best, most active Commissioner the LGA has had in recent times, she further described her as a compassionate, kindhearted leader with great love for her State and People.
She appealed to the recipient to continue to help and support in the areas of Women empowerment, Women inclusion in Governance, Youth empowerment and also lend her voice against social vices bedeviling the Local Government.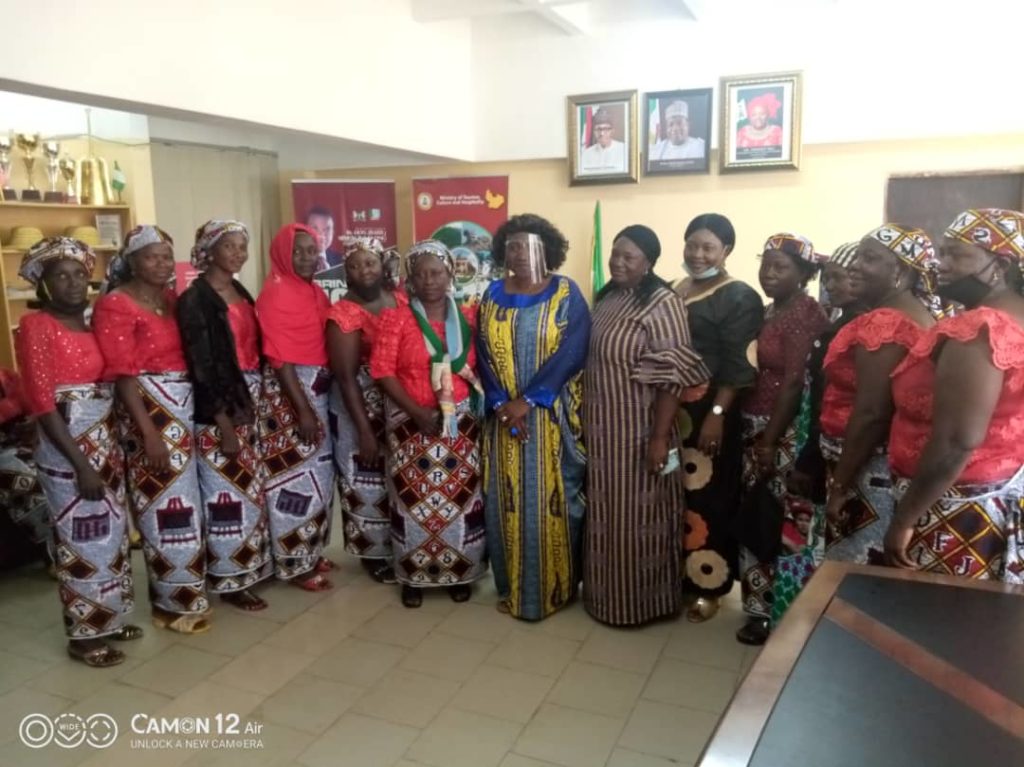 The Hon. Commissioner was visibly moved to tears seeing her office filled with her Sisters beautifully dressed, Representing the entire LGA to honour her. She first gave God the glory, thanked him for making the day possible and the journey mercies he granted to them.
She thanked God for sustaining the women and their families in good health even in the face of the Covid-19 challenges. She immensely appreciated them for finding her worthy for such a recognition. She promised to do more, by the grace of God and noted all issues brought before her.
Highpoint of the occasion was the presentation of the portrait to the Commissioner which was received amidsts large ovation from the Women and the Ministry Staff. Goodwill messages were received from the Permanent Secretary of the Ministry, Mrs. Martha Azi, the General manager Plateau Tourism Corporation, Mrs. Salomi Bida, Director of Culture, Nde Dantala Dewan and the Director of Tourism, Mr Tyem Samuel.
The Management testified on the laudable achievements of the workaholic Commissioner whose zeal and dedication as a trailblazer has brought about the repositioning of the Ministry, adding that before now the Ministry was none existent. They further noted that they were not surprised on the achievements by the Hon Commissioner in her Constituency.
count | 48