Joyce Daser Adams: Carrying the pains of injustice
The space given to young men and women to exercise their entrepreneurial skills in the last couple of years has been encouraging. No wonder, today, there are a number of such centers which have been created or established to serve the needs of their numerous customers. One of such is an auto center run by one Joyce Daser Adams in Wuye, Abuja. KATDAPBA Y. GOBUM recounts the experience she went through in the hands of alleged officials of the Federal Capital Development Authority, Abuja lately while crying that justice be served to her on account of travails.
Exactly in the last two weeks today, the voices of Nigerians, both men and women have continued to cry to high heavens for the injustice perpetrated on one Joyce Daser Adams, Founder at Autolady Inspire Foundation and Autolady Synergy Coy Ltd popularly called the Autolady; and whose shop was brought down in a manner any eye that has seen it would feel for her; wish that justice be given to who deserves it.
Rightly so, many individuals as well as groups which include the Plateau State chapter of Women4Women/He4She through its coordinator, Dr. Jophia Gupar without let took the fight to the Minister of women Affairs, Dame Pauline Tallen for justice to be served. The Minister has since swung into action to ensure that nothing is left on the sides without Joyce accessing the justice she deserves.
Such outpourings of concerns have confounded the victim, as to why such voices would rise in defense of her to condemn the atrocities visited on her company by alleged agents of the FCDA. There may be such injustices which have been perpetrated and not allowed to see the light of the day, while victims are, before long, abandoned to their fate.
For those who do not know, 'Autolady Synergy Coy Ltd is a world class automobile company that is focused and passionate about making vehicular owners drive in confidence and comfort by providing excellent services.
Much more about it, 'our Team is comprised of highly motivated Engineers, Technologists and Technicians committed to providing quality services using up-to-date Technology'.
As 'our mission is to provide a top notch automobile engineering and value driven customer services one our major aim is to educate the female folks on basic maintenance culture of vehicles.
Even as 'our Vision is to become the most trusted valued automotive service company in Africa', the question is: Why visit that on the woman, who is genuinely engaged in providing service to vehicle owners as well as laying a foundation for the staff to fend for themselves tomorrow?
Those who do not know will be quick to ask: What troubles does Joyce Daser Adams have? Or rather who is this woman in question that she has hotly comes under the searchlight? Would it not be right to dig into her current predicament with a view to finding why her world is crumbling as a result of the alleged 'cruelty' of Federal Capital Development Authority?
When the act was committed, she immediately sent out an SOS to whoever cares to listen to her. She wanted the world to come to her aid by providing the platform for which her activities through her company would not be shut down. After all, government has continued to encourage those with skills not to waste such by coming up to help the nation achieve the much needed industrial revolution.
The fact that she came out to help achieve that cannot be seen as a crime. If the nation cannot encourage her achieve her dreamed goal, there is a long way ahead of us all. If at all the perpetrators of the act were acting on a directive of a government agency, would it not have been appropriate to have asked her to relocate to another area if the place she was carrying her trade was not the right place for such a business?
Except she was warned earlier without heeding, thereby necessitating the action; but even at that, would any government agency act in such a manner knowing she may seek redress in court or in the public opinion court where she could be compensated?
This is Joyce Daser Adams' story. It was interesting to note that immediately the event took place; her story and appeal became the talk of the town. She had written thus: I am with a heavy heart.
I was assaulted with my employees and my workshop was demolished
Yesterday afternoon, at about 3:15pm, I was getting ready to leave for Female Entrepreneurship and Employment Network Int'l (FEENI) Int'l Women's Day 2020 event.
Immediately, I saw 3 Hilux parked in front of my workshop with Men from Development Control and FCDA to survey a building opposite us not knowing it was our workshop they were actually targeting and they left. But few minutes later, I saw an Hilux in VIO colour Parked in front of our gate and another behind it, then 3 bulldozer and started seeing different Hilux with troop of Civil Defence,Tax Force, SSS,VIO, Police and others without uniform they were more than 100.
They forced their way in, slapped my employees, beat me and began destroying my workshop, towed away Six (6) customers, Vehicle and all effort to make them stop was futile. They didn't stop until they destroyed a large part of my workshop and almost injured a woman and her child.

Everything I have worked for years was brought down in less than 30minutes.
My 7years old daughter who just returned from school with her sisters started crying and was asking me that: "Mummy, are they going to kill us"? I was crying and said no. She asked again, 'did they shoot you?'
Unfortunately, other mechanic garages around were left untouched.
Is this what a women who is encouraging other women through her capacity training in automotive and create employment opportunities to eradicate social vices should received rather than been encouraged?
This is what I get for creating Jobs for Nigerian youth. This is what I get for empowering women to be self reliance all in the name of the place is not designed for mechanic workshop except residential, will I build and live a comfortable life when I don't have a Job?
Will I build on my land when Nigeria youth are suffering?
Thank you FCT for destroying what I have laboured for. Thank you Nigerian Government for taking back the grant you gave me to establish my business. Thank you for bringing me back to zero. Thank you for sending us back home. Thank you for beating me up for being a female mechanic and an entrepreneur. I am calling the attention of the Nigerians to this injustice.
Who would not feel bad after going through this? It is heart-rending and traumatizing for a young woman dedicated to making herself relevant to the economy of the nation to be treated in the manner she got.
If she thought her travails would not get to the ear of the authority, she underestimated the power of women. But her voice though sarcastic had gone ahead of her. She was honoured to be invited by Dame Pauline Tallen, Women Affairs Minister on March 17, 2020; where she was promised justice.
It was Dame Pauline Tallen, the Minister, Women Affaris who opened the door for her to visit the Police Commissioner, FCT, Bala Ciroma, who was detailed from the Inspector General's office using the instrumentality of her office. Those visits should sort out a number of things around the unfair treatment.
On account of the various interventions, 'there is a glimmer of hope for the hopeless', Joyce was quoted as saying. She is optimistic; justice will come her way, even as she is grateful that those who heard her cry and did not abandon her, particularly women, media and other Nigerians.
It was the coordinator of W4W/He4She, Plateau State chapter, Dr. Jophia Nanker Gupar who, even when she had not known the young woman involved; she provided a shoulder for her case to be heard and attended to at the highest level. Since the incident took place, she has not rested to ensure that justice is given, while those who carried out the instruction for the destruction are fished out and punished.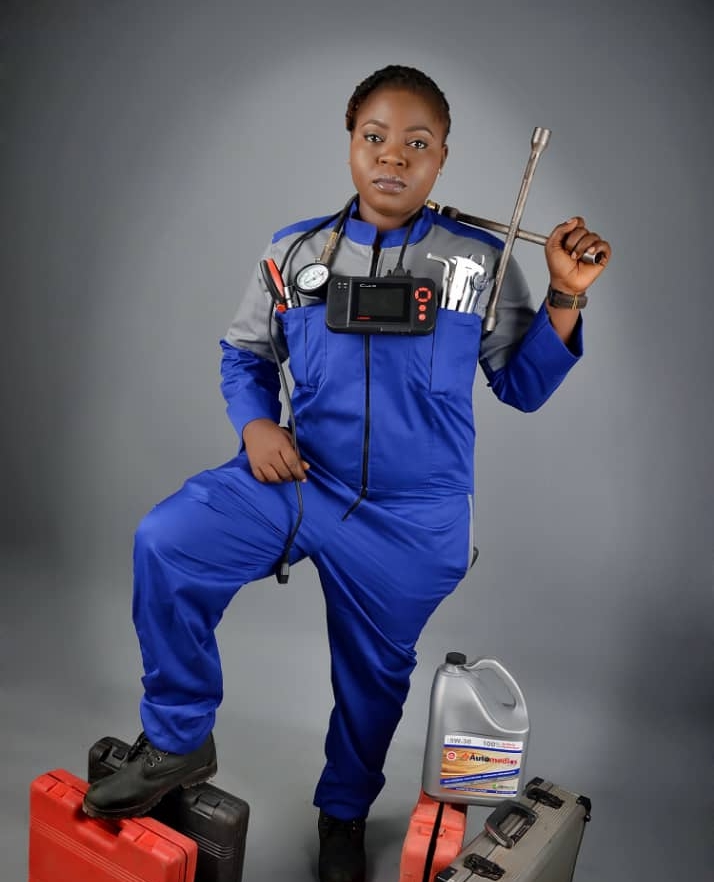 count | 139