Cancer patients in Quanpan local government area, Plateau state, and other patients has felt the impact of Magdalene Naanyil the Founder MEG Cancer Foundation, Honourable Magdalene Naanyil as she gave them financial support.
During it's annual cancer walk and talk campaign on the 20th February, 2021 at Baap in Quaanpan local government.
The aim is to assist cancer patients with medication as they undergo treatment.
In his keynote the guest speaker Dr. David Onota a Medical doctor with JUTH, said, Cancer in the most basic terms refers to cells that grow out of the control and invade other tissues. He further point out the risk factors which is smoke, heavy Alcohol.
Dr. David said the sign and symptoms of cancer are hoarseness, unusual bleeding or discharge, breast unexplained Anemia and many others.
Honourable Magdalene Naanyil Dakogol, founder and Chief Executive Officer MEG cancer Foundation in her speech said, the plight of people living with cancer is the most important priority of the Foundation, adding that the foundation will continue to collaborate with relevant agencies through sensitization inorder to save millions of lives from preventable deaths caused by cancer annually.
Honourable Magdalene Naanyil said she has come to the aid of men and women bedeviled with cancer in Quaanpan with cash donations to settle thier hospital bills and cushion the pain in their medication.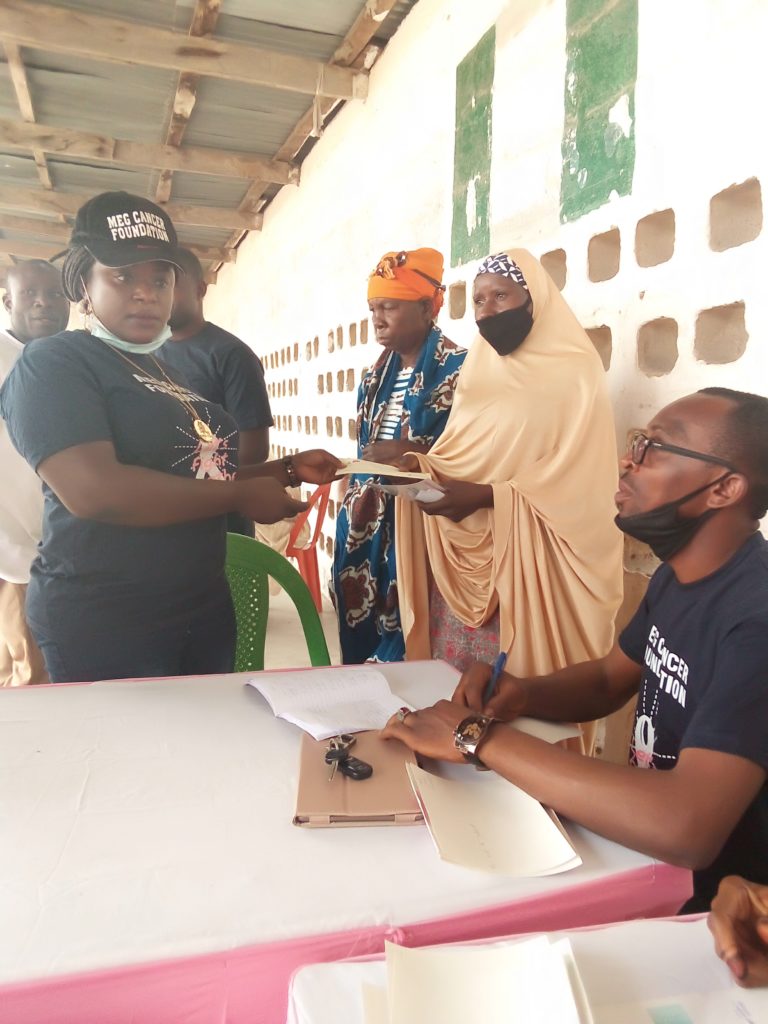 Magdalene Naanyil gave an undisclosed cash donation to the Cancer patients to provide succour for regular medical check-up.
The 2021 world cancer day has as theme; "I am and I will". She concluded "Sadly, cancer has broken many homes, caused pains and cut short the lives and futures of many people around the world. This is a sad reality and I'm pained by this disaster. Let us do everything within our reach to help mitigate the impact and eliminate Cancer in our society."
She called on well-wishers to endeavour to support and care for Cancer patients. They deserve the best in life and utmost love and I assure you that MEG Cancer Foundation will continue to work on the frontline of research, innovation and collaboration to create a cancer-free society.
count | 81