The Berom Educational and Cultural Organization (BECO) on Saturday 19th September, 2020 inaugurated 17 standing Committees in line with its "Ki Pas" translated "New Walk" Agenda with the call on them to work toward greater unity.
BECO Worldwide President, Da Gyang Dudu Dalyop urged Members of the Committee to work towards achieving a more united and prosperous Berom Nation.
He commended the people for the cooperation and supports being accorded him and his Team which he said is visible in the achievements of the body so far.
Da Dudu posited that BECO's intention is to upgrade BECO Comprehensive High School Kwi to a Higher Institution.
He said Members of the Committees were carefully selected on account of their pedigree saying a lot is expected from them.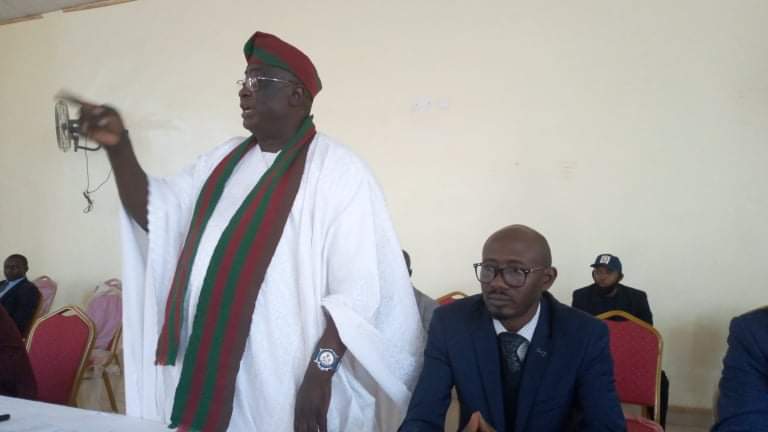 The Legal Adviser of BECO, Barr. Gyang Zi performed the inauguration and urged the Members to abide by the Constitution of BECO and work to achieve unity, growth and development of the Berom Nation.
Speaking on behalf of all the Members of the inaugurated Committees, Da AIG Dan Bature (Rtr) who is the Chairman Finance Committee appreciated BECO for finding the Members worthy to serve in the various and said they will work assiduously, collective and in synergy to achieve the set goals.
The event which held at Zawan Youth Club Jos South LGA was well attended and in strict compliance to COVID-19 Health Protocols.
The Standing Committees and Membership are as follows;
A. MEDIA, MOBILIZATION & PUBLICITY
Hudung Gyang.. Chairman
Sunday Dung
James Nyango
Gindu Kennedy
Felix Choji Davou
Kim Deme
Gyang Bere
Pam Zang
Pam Jimmy Jerry
Friday Bako Dalyop
John Dung
David Mancha
Rep. BCNA
Ibrahim Pam
Nathaniel Umar.. Secretary
B. FINANCE COMMITTEE
AIG. Dan Bature.. Chairman
Dung, Sarah Anthony
Samuel Gyang Chollom
Dr. Joel C. Lomak
Dalyop Fom (Sanchos)
Yusufu Davou Pam
Dr Yohanna Gyang
Engr David Jang Tanko
Dorcas Kaneng Pwajok… Secretary
Austin Dalyop
Rev Yakubu Pam
Grace Pada
Hon Dachung Bagos
Hon. Chris Giwa
Rose David Jugu
BCNA
All state/FCT Branches
C. POLITICAL, GOVERNANCE & COMMUNITY DEVELOPMENT
Prof. Thomas T Shut.. Chairman
Dr Daniel Dung Kim
Rwang Pam Gyang
Kim Titus Danja
Gyang Mali Jok
Musa Dung
Joe Danladi
Hon Pam Sale
Hon Dalyop C. Mancha
Francis Jamang
Hon Rufus Bature
Chief Donny Fom
Dung Danboyi
Qim Kaze… Secretary
Stephen Gyang Monday
D. LANGUAGE AND LITERATURE
Hannatu Gyem Dantong- Secretary
Musa ex Bot-Fang- Chairman
Bulus Bot
Susan Zam
Davou Sunday D. Dagwom
Ezekiel Foron
Timothy Rabo Pam
Stephen Gyang Monday
E. STRATEGY, RESEARCH & INTERNATIONAL AFFAIRS
Prof Dung Pam Sha. Chairman
Markus Pwajok
Kim Luka Dung
Joseph Gyang Bot
Dr Davou Dung Nyam
Alex Pam Jang
Rwang Patrick Stephen
Sam Çhollom Godongs
Ceasar Payi Secretary
Gyang Davou Jatau
Gyang Nyam Bard
Anthony G Bot
Pam Dung Kim
Andy Gyang Pam
Yusufu Wang
James Pam
Dr Joel C Lomak
Mwakuk Jang
Çhollom Gyang
F. EDUCATION, TECHNOLOGY & VOCATIONAL SKILLS
Prof Joshua Chollom Pam – Chairman
Iliya Fondong
Patrick Dusu
John Rapp
Raphael Pwol. Secretary
Dr Gavou T Pam
Fiou Paul
Prof Nestor D Chagok
Simon Dachung
Davou Rangai
Arch Dachollom Dahoro
Musa C Bot-Fang
David T Mancha
G. INTER-ETHNIC & RELIGIOUS AFFAIRS
Rev Andrew Dido Chairman
Rev James Pam Kim
Yakubu Nyango
Dr Alex Madugu Secretary
Alh. Ibrahim Auta
Rev Daros Davou Dachomo
Prof Kachollom S Best
John Danboyi
Alh. Abdullahi S. Ango
Isa Pam
John Ali Reng
BEMFO Rep
Gwaja Davou
H. HEALTH, SANITATION & SPECIAL NEEDS
Prof Ishaya C Pam
Yakson Pam
Dr Pam Datong
Mary Jatau
Alh. Jibrin Gyang
Dachung Gadong
Dr Samuel Kwis
Dr Solomon Chollom
Blessing Adamu Dalyop
Christy Kwis
Ishaya M Kurang
Luka Chuwang
Hannatu Nakosa
Chundung Jat
Pharm. Dan Bott.
Dr Giwa Gwomson
Badung Yohanna Dalyop
Job Chollom Dung
I. LEGAL
Edward Gyang Pwajok SAN- Chairman
Barr Gai Peter
Barr Samuel Gyang Dusu
Barr Yop Rwang
Barr Gyang Zi
Barr Niri Darong
Barr Esther M Jock- Secretary
Barr Solomon Dalyop Mwantiri
Barr Gregory Zi
Barr Bitrus Simon Dung
Barr Henry Bok
Yusufu Fwom Vwosdung
J. HERITAGE, TRADITION & CULTURE
Prof B.T. Bingel- Chairman
Musa Chuwang Bot-Fang
Sunday Badung
Joseph Chollom Jack
John Fom Gwott
Mark Rwang – Secretary
Silas Patrick Dung
Ayuba Jagaba
Jah Dakpe
Stephen Gyang Monday
K. WOMEN, YOUTH EMPOWERMENT & MOBILIZATION
Sarah Reng Ochekpe Chairman
Jacob Pwakim
Dr Esther Pam-Bot
Engr Chuwang Musa
Prof Christy Best
Veronica Dachomo
Yaks Danja
Garos Logan's
Dung Rwang Tok
10.Kate Pam
Saratu Dalyop
Bulus Gyang Lang (BG)
Esther Gonda
Pwajok Mang
L. SPORTS & SOCIAL DEVELOPMENT
Bitrus Gwom Chun – Chairman
David Sule
David Gyang
Kim Chong
Pam Shedrach Choji
Mercy Yop Chuwang
Alh Yakubu Dalyop
Gacha Steve Secretary
Pam Jimmy Jerry
Dung Musa Davou
Patrick Mancha
Sambo Choji
Edward Fom
Sam Pam
Silas Patrick Dung
Dr Joseph Nyam
Bilhatu Dalyop Bot.
M. PEACE, SECURITY & REHABILITATION
Davou Dominic Gyang
Grace Pam Mutbam
Joseph John Dinju
Engr Yakubu Dafei
Grace Edward Gyang
Sarah Yusuf
Barr Solomon Dalyop Mwantiri
John Danboyi
Garos M P Bature
Bitrus Davoushey
DSP Adamu Dalyop (rtd)
BEMFO Rep
Pam Rondong
Yakubu Taddy
Toma Minti
Col. Barnabas Gyang (rtd)
SP Dung Dalyop (rtd)
Compt. Dakim DPA
Yusuf Fwom Vwosdung
N. AGRICULTURE
Sunny Jugu
Alan LoDam
Davou Paul Matta
Prof Davou Dabi. -Chairman
Gyang Dangana
Alh. Yusuf Abdulmalik
Markus Davou
Prof David Yakubu
Sunday Mancha
Pam Tok Faruk
Dinatu Kim
Mrs Chundung J Shom
O. LAND, ENVIRONMENT, CONSERVATION, HOUSING, MINERALS & INVESTMENT
Vou Dido
Prof JY Dung Gwom
Arch Dave G Bot
Engr Luka Davou
Arch David Madugu
Arch Jonathan Chong
Luka Chollom Pam
Rex Cheng
Dr Dagwom Dang
Rex Cheng
Yop Kwa- Gbadamosi
Dr Ibrahim D Choji
Çhollom Gyang
P. HOSPITALITY, TOURISM & CULTURE
Ladi Dakwo
Becky Soemlat
Martha Pam
Martha Bature
Gyang Danboyi
Joseph Chollom Jack
Hannatu Gyem Dantong
Chundung Kelle
Kaneng Dokotri
Q. PROJECTS & INFRASTRUCTURE
Ishaya Chuwang
Engr Gyang Woshi
Arch Monday Dalyop
Arch Ishaku Dung Wang
Engr Jack Bot Dung
Engr Gyang Wash
Arch Ishaku D. Wang
Engr Williams Gyang
Richard B Danboyi
count | 162